Miranda Kessler – Catering Sales Manager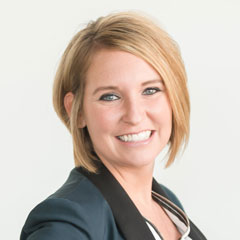 Miranda graduated in 2012 from IUPUI with a degree in Tourism, Conventions, and Event Management. It was during her internship at the Indianapolis Zoo she discovered her love for all things hospitality related. Miranda has been with The Willows Event Center since 2019. Prior to The Willows, Miranda planned and executed weddings, non-profit fundraisers, and corporate events ranging from 50 guests to 10,000 guests. She enjoys building relationships that turn into lasting connections. In her spare time, Miranda enjoys traveling, going to concerts, and hiking with her husband and adorable puppy Luna.
Jack Bayt – Business Development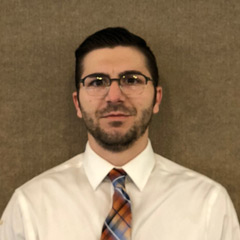 Jack has been with Crystal Catering since 2013. Having grown up in a large Italian family where food and entertainment were the main focus it is no wonder Jack found his calling in the catering business. Family gatherings are often small groups of sixty or more people where it is customary to have homemade pasta, bread and pastries. Food has always been a main focus in his family. Many of Jack's relatives have been and still are involved in catering, restaurants and party rentals. Jack sys "It's in his blood!" The passion was instilled by his father, Jack, founder of Crystal Catering. The passion, however, was cultivated by Jack's mom, aunts and grandmothers who, Jack's words, "are phenomenal cooks and hosts". Jack's hobbies include finding new restaurants, researching new desserts and craft cocktails. He loves golf, traveling and reading.
Emily Slavens – Executive Chef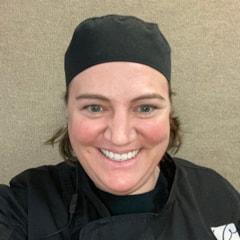 With a passion for flavor and a flair for multi-ethnic cuisine, Emily has been practicing her train for thirteen years. A 2007 graduate from Sullivan University in Louisville, she began her career as the executive chef at The Loft at Traders Point Creamer, a farm-to-table restaurant in Zionsville, IN. Transitioning to Feast in Bloomington, IN in 2011, she was able to use her experience at The Loft to expand local resident choices by providing a local and sustainable menu. Emily's tenure at Crystal Catering began in 2014, when she was promoted to Executive Chef at the Willows in February 2018. In her spare time, Emily loves to spend time with her little girl, Presley Grace, and her wife, Renee.
Charlie Moore – General Manager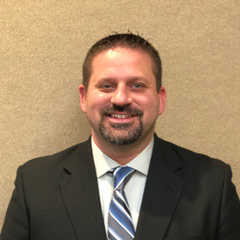 With 21 years of experience in the hospitality industry, Charlie understands the importance of delivering quality food and service. He takes pride in making each event memorable through attention to detail and bringing a client's vision to fruition. Holding degrees from Indiana Wesleyan University in Business Management, Business Administration/Human Resources and finishing up his master's degree in Organizational Leadership, Charlie has extensive experience in training and development. In his spare time Charlie enjoys spending time with his eight children, coaching youth sports and attending community festivals and events.